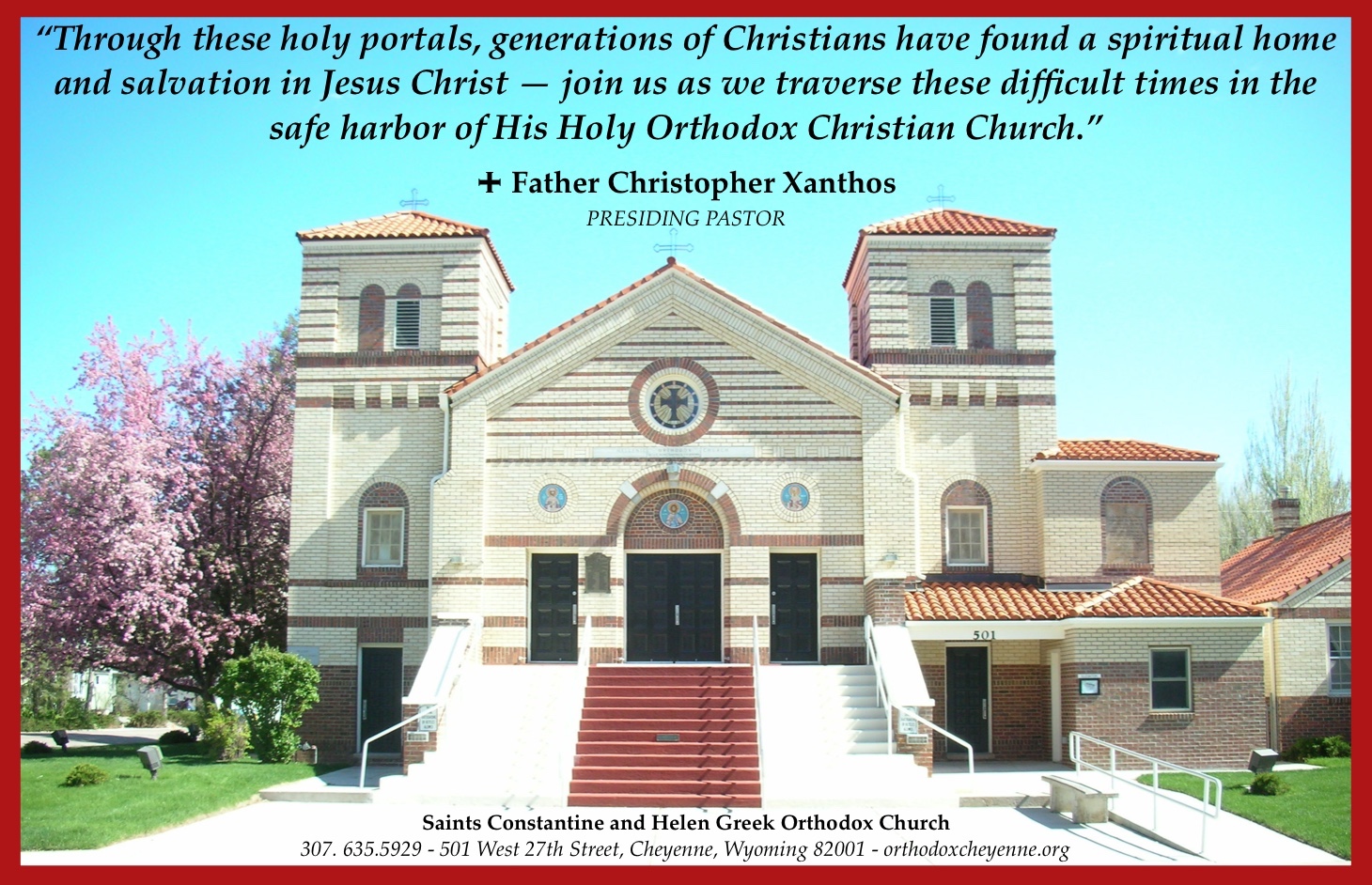 The Priest's Message
As Christ commands, so shall we live. To love our God and our neighbor, these are the core principles of our Saints Constantine & Helen Greek Orthodox Christian parish community, and we extend to you our love and prayers, and welcome you. From generation to generation, the Holy Orthodox Christian Faith has preserved and upheld the fullness of the Christian Faith and her teachings as it has been passed down, unblemished and unchanged, directly to us from Christ Himself, through the blessed Twelve Apostles, the Saints and Martyrs, and faithful throughout the ages. We hope and pray that your journey of faith continues and opens this door to the Holy Orthodox Church. Thank you for visiting the website of our parish home, may this online experience assist you as you learn more about our historic parish and Orthodox Christianity.
You and your family are always welcome to join us. When you visit, we invite you to fellowship after the Sunday morning service. Our services are conducted in English and a copy of the service book is available at the link below. I encourage you to contact me directly by email: CLICK HERE or by phone at: 307.635.5929 to learn more about our church community, local outreach, and ministry.
WE WOULD LOVE TO HAVE YOU JOIN US FOR WORSHIP AT 9:30am EACH SUNDAY!!! ALL WELCOME!!!
Upcoming Services & Events
Tuesday, July 7
11 am
Volunteer at Saint Joseph's Food Pantry
206 Van Lennen Ave, Cheyenne, WY 82007, USA
Wednesday, July 8
10 am
OFFICE HOURS, FATHER CHRISTOPHER
Thursday, July 9
10 am
OFFICE HOURS, FATHER CHRISTOPHER
7 pm
GOYA Meeting
Parish Courtyard
Saturday, July 11
EUPHEMIA THE GREAT MARTYR
View Our Full Parish Calendar »
Our Faith
'Orthodoxy is the Church of Christ on earth. The Church of Christ is not an institution; it is a new life with Christ and in Christ, guided by the Holy Spirit. Christ, the Son of God, came to earth, was made man, uniting His divine life with that of humanity. This divine-human life He gives to His brethren, who believe on His name. Although He died and rose again and ascended into heaven, He was not separated from His humanity, but remains in it. The light of the resurrection of Christ lights the Church, and the joy of resurrection, of the triumph over death, fills it. The risen Lord lives with us and our life in the Church is a mysterious life in Christ.'
Sergius Bulgakov, The Orthodox Church
'The Orthodox Church is evangelical, but not Protestant. It is orthodox, but not Jewish. It is catholic, but not Roman. It isn't non-denominational, it is pre-denominational. It has believed, taught, preserved, defended and died for the Faith of the Apostles since the Day of Pentecost 2,000 years ago.'
Begin your journey into the fullness of Christ's Holy Orthodox Christian Church today!
---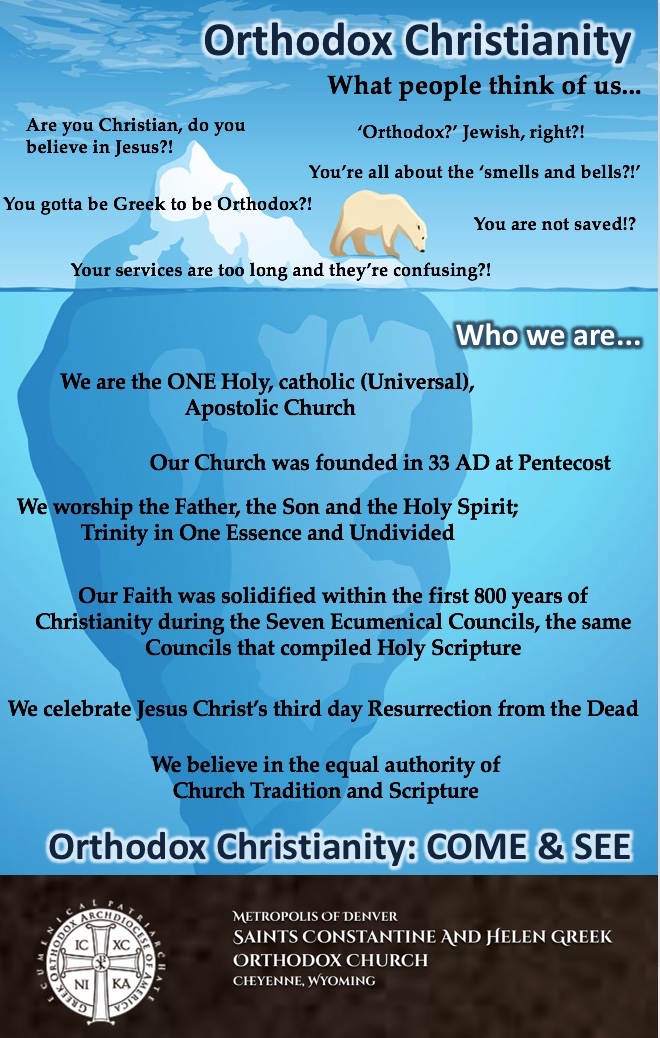 Visit our Greek Festival page by clicking on the image below -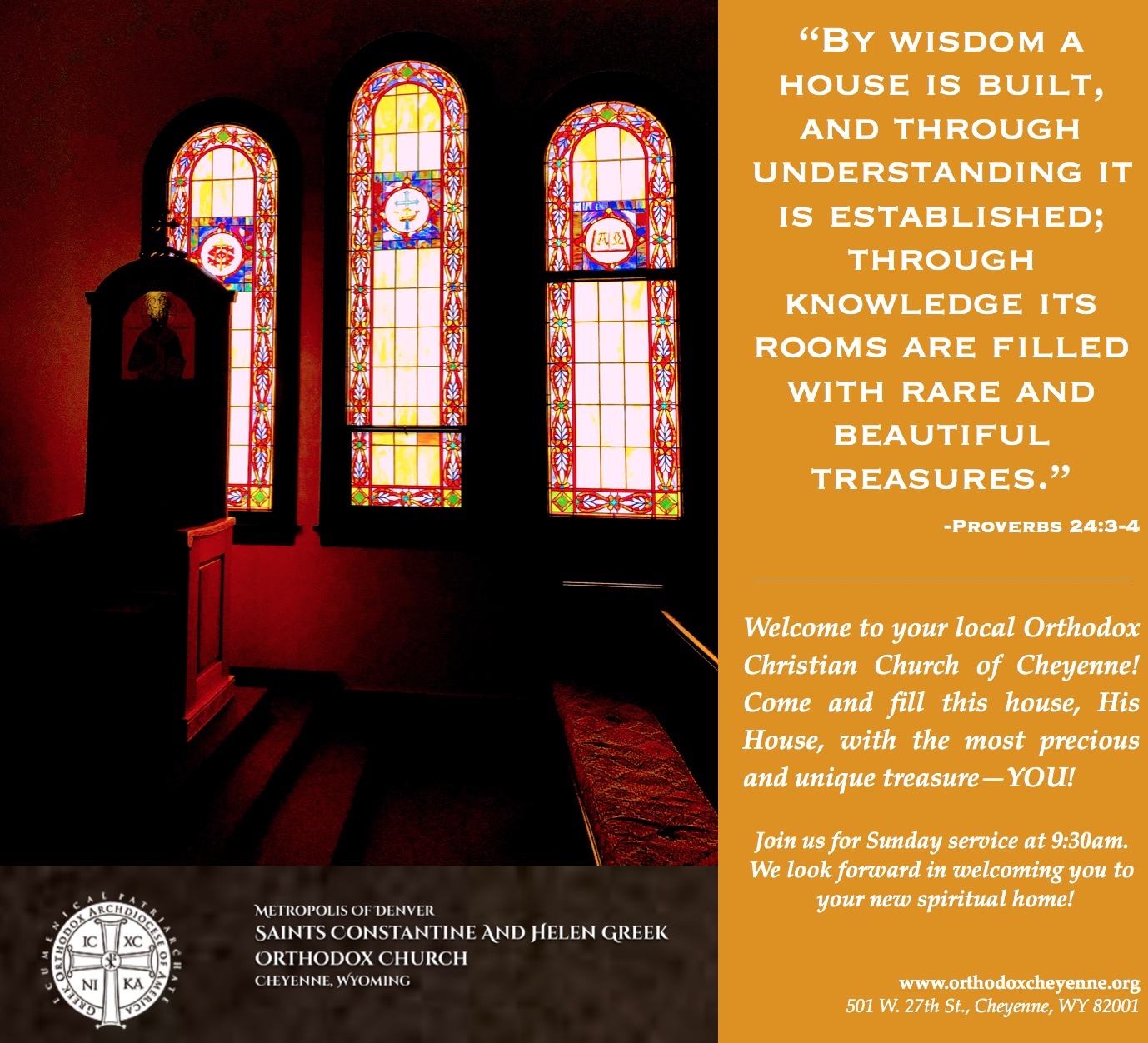 ---
Ways to Give:​
The parish of Saints Constantine & Helen Greek Orthodox Church of Cheyenne is a faithful community of believers with a vision! We respond to the spiritual needs of the Orthodox Christian faithful through our local ministry initiatives, providing programs and services to both parishioners, as well as those in the greater Cheyenne community and beyond. We invite you to prayerfully consider sharing the resources given to you by God in support of our strategic plan, with a safe & secure donation to support our parish home.
Your support directly helps us further this vital ministry work!
To become an annual supporter and steward of our parish, please use the 'Stewardship Form' tab:
To support our parish operations, our outreach and ministry programs, please use the 'Donate' tab:
---
View Parish Services Online: